As an Amazon Associate I earn from qualifying purchases. Support us by using our links to Amazon when you shop.
A Superb Le Marche Winery - Azienda Agraria Fiorini di Carla Fiorini
by Marieke Nooder
(Italy)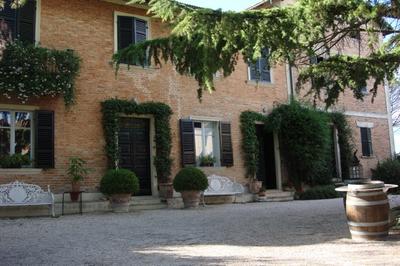 Fiorini
Over 100 hectares of land in the city of Barchi, near Urbino and Montefeltro territory. A hilltop position 350 m above sea level, a few miles away from the sea and adjacent to the green Apennines mountains.


Wine production is shared between 42 acres of Bianchello, 2 acres of Sauvignon Blanc and 10 acres mixed of Sangiovese, Montepulciano and Cabernet Sauvignon:
This is a winery where traditional wines, passed down for generations, are produced. Luigi Fiorini planted the idea and the first vineyard in 1930.
Valentino Fiorini, agronomist, inherited the indispensable instinct to do this job well, and planted the right grape varieties in the right terroir, widening the wine making horizons of the Company.
The youngest component of the family, Carla Fiorini, has already this certainty and says that her father has set an example of life and professional wisdom.
The WinesLuigi Fiorini: Colli Pesaresi Sangiovese D.O.C./ Big Sangiovese.
Maturation : 36 months in 25 hl French oak casks, min. 12 months refining in bottles
Sale: after 4 years from grape-harvest
Bartis: Colli Pesaresi Rosso D.O.C./
The wood of big oak casks is responsible for the refining process during maturation of this special blending of grapes.
Maturation :12 months in 25 hl French oak casks, 6 months refining in bottles.
Sirio: Colli Pesaresi Sangiovese D.O.C./ 85% big grape Sangiovese and 15% Montepulciano
The young Sangiovese, still rich in fruit, a wine to drink even cool, balanced in its young tones not demanding but excellent in appearance.
Tenuta Campioli: Bianchello del Metauro D.O.C./
Our idea of a great Bianchello, elegant, structured, of a lengthy maturation, fruity and warm as few white wines; mature grapes and long fermentation for a wine both important and noble
in its equilibrium.
Sant 'Ilario: Bianchello del Metauro D.O.C./
This is the Bianchello of our tradition: fresh, savory, rich in pleasant fruity aromas, of great drinkability, a young and intelligent wine.
Contrada La Galoppa: I.G.T. Marche Bianco
Wine obtained from an uncommon blend of Chardonnay, Sauvignon and Bianchello, our native vine.
The technological characteristic of this wine is its reduction based processing thanks to the use of inert gases, from the harvest to the fermentation, in order to preserve the entire variety of aromas.
FIORINI (Perle): Vino Spumante Extra dry
Extra dry sparkling wine obtained with the charmat method using Sangiovese and Bianchello grapes; vinification - white.
Before refermentation, the sparkling base is refined for about 4 months on the dregs to obtain greater aromatic complexity and structure.
Because we look for grapes with greater total acidity, the vineyard from which we obtain the Bianchello grapes varies.
Monsavium (Vin Santo):
Original rediscovery of a wine obtained from "Bianchello" dried grapes, then matured in kegs for years, sweet, warm, amber coloured, almond-tasting and strong.
AwardsTHE WINEHUNTER AWARD 2018
excellence certificate was granted to two of our wines: Bianchello del Metauro DOC Superiore (TENUTA CAMPIOLI 2017) and Colli Pesaresi DOC Rosso (BARTIS 2015).
The guide
"Duemilavini 2010,"
organized by the Italian Sommelier Association, has awarded the prize to the Cantina Fiorini for 5 Grapes Sangiovese wine Colli Pesaresi Luigi Fiorini 2004. They reviewed 1,632 Estates and a total of more than 16,000 wines'
2008 Alub
ALUB Bocconi University Alumni Association Recognition "entrepreneurship Wine Country"
2007 the Golosario
The top hundred Golosario Recognition 2007 - the 100 best wines of Italy
Award Bartis 2003
2001 award Portonovo
Award Portonovo International recognition of arts, culture, entrepreneurship, food and wine