As an Amazon Associate I earn from qualifying purchases. Support us by using our links to Amazon when you shop.
The Finest of the Piedmont Wines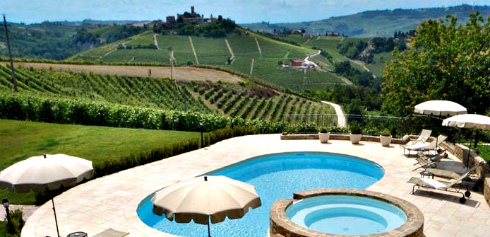 It is on the hills surrounding Barolo that you'll find the award winning Marchesi di Barolo vineyards, while the cellars, the tasting rooms, wine shop and the restaurant are located in the town itself.
The Marchesi di Barolo Wines
Nearly all of the great Piedmont wines are produced on the estate including Barbera d'Alba, Barolo, Nebbiolo, Barbaresco, Roero Arneis, Brachetto and Moscato d'Asti.
If you can do try to visit, after all it is just one more excuse to visit Italy! I promise you the wine tastings, accompanied by local specialities, are wonderful and even better is their restaurant.
The restaurant serves many of Piedmont's greatest dishes. These wines and dishes have been "matched" over countless centuries so you can be sure of a real culinary treat of epic proportions.
The Marchesi di Barolo enoteca (cellar) has a vast collection of Barolo wines that is unmatched anywhere on earth – around 36000 bottles at last count and the collection is still growing at the rate of 400 bottles and upwards a year.
Hotels in Barolo
A lovely lovely place to stay and much more than just another boring old hotel is the Antico Podere Tota Virginia (see photo at top of page). A mile or two outside of the town of Barolo it is set in some of the loveliest countryside you are ever likely to see.
For more of Piedmont wines and those of Italy's other regions return to the best-Italian-wine home page.
If you are interested in touring the Langhe region of Piedmont click here.
Italian Wine Regions and Wines
Shared stories about Italian wines and the wine regions of Italy...