As an Amazon Associate I earn from qualifying purchases. Support us by using our links to Amazon when you shop.
Fine Italian Red Wines from Cascina Saria
Where is Cascina Saria?
Right on the doorstep of one of Italy's loveliest villages you will find the small family run estate of Cascina Saria.
The little village in which Cascina Saria finds itself is a place called Neive (view our guide here). Neive has officially been chosen to be one of the most beautiful of all Italian villages. If you visit you will immediately understand why.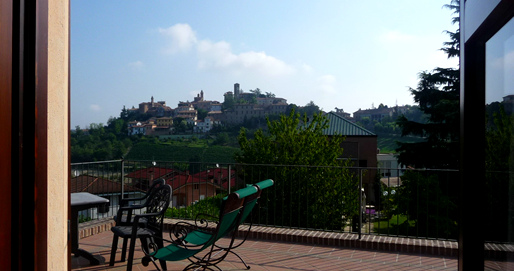 View of Neive from the Villa Lauri Hotel.
The Estate
Cascina Saria may be a small farm but it is run with a fierce determination to excel by the husband and wife team of Maura and Alessandro.
Their determination and the fact that they are fortunate to find themselves in the heart of the Langhe, on terroir that is some of the best in Italy, makes success almost guaranteed.
Over the course of the last five years they have made enormous strides in terms of quality and they are now producing some really fine Italian red wines.
An interesting fact is that the estate falls partly in the traditional Barbaresco producing region of Neive and partly into that of Costigliole renowned for Barbera d'Asti. The result is, not surprisingly, excellent wines. Few Italian red wines are better.
Particularly good are their Barbaresco and Barbera wines but their Dolcetto lack nothing either and is most certainly of superior quality. In fact the Dolcetto is my favourite of all the Cascina Saria wines.


Where to Stay in Neive
The Villa Lauri in Neive is the only choice and Cascina Saria is only a short distance away.
The hotel is a friendly and welcoming place indeed and staff will be most happy to help you with directions to Cascina Saria and many of the other excellent wineries to be found in these parts.
If you would prefer an organized tour of the Piedmont wine regions



Return from the fine Italian red wines of Cascina Saria to the Best Italian Wine home page.