As an Amazon Associate I earn from qualifying purchases. Support us by using our links to Amazon when you shop.
Fine Italian Wine - Poggio Rubino
Three Generations of Fine Italian Wine
Poggio Rubino is in the young, yet capable, hands of Alessandra Marzocchi and Edward Corsi, the latest generation to inherit the land acquired by their grandfather in the early 1950's. A story that began a long time ago out of passion and tradition has been very successfully carried into the new century. Poggio Rubino is now a name that is highly respected by leading experts of fine Italian wine.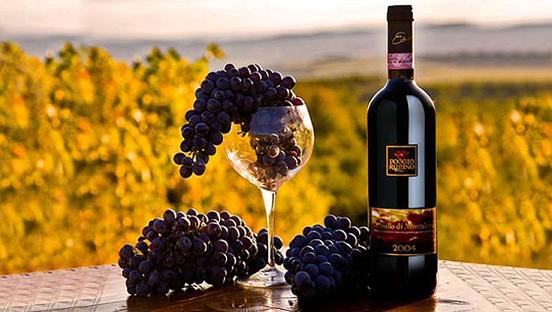 The Wines

Added to the obvious passion and great respect for tradition is a lot of investment in expertise and modern techniques that have allowed Alessandra and Edward to produce wines that are truly excellent.
Producing Brunello wine means that the bar will always be high and they have managed to rise above it every time. In a land of giants they can proudly hold their heads high.
Cultivation is entirely dedicated to select Sangiovese grapes. Their most important two wines are:
ROSSO DI MONTALCINO; Produced from 100% Sangiovese select cultivated entirely by hand and aged for 6 to 8 months in oak. This is an intense ruby red wine with a lingering hint of fruit. The taste reveals dark berries and a long finish. An outstanding wine and excellent value too. Alcohol content 13.5% to 14%.
BRUNELLO DI MONTALCINO; 100% Sangiovese select, aged 36 months in oak and at least a year in the bottle. Deep ruby red in colour and with a full fragrance of red berries and some spice. In the mouth it is elegant with a dry start and a delightfully long finish - a really superb wine. Alcohol content 14%.
Visiting The Estate
This is a truly lovely part of the world and a brilliant way to visit Poggio Rubino is to stay at the estates bed and breakfast which is right in the heart of the old town of Montalcino. Next door to the bed and breakfast is the estates shop and free tastings are offered.
I would highly recommend too that you ask for one of the tastings accompanied with local products typical of the area. Tours of the estate are arranged and if you are lucky enough to visit during harvest time you will be given the opportunity to participate.
To visit the estate or for more information on the fine Italian wine produced by Poggio Rubino please contact me below.



---
---
Return from the Fine Italian Wine of Poggio Rubino to the Best Italian Wine Home Page


Visit our Italian Wine Producers Page for Estate Photos


---
---