Good Italian Wines - Fattoria Campigiana
Three Generations of History

The Campigiana family farm is to be found near San Miniato, a delightful little village in the lower Arno Valley located halfway between Pisa and Florence.
The farm has occupied this sixteen hectares of Tuscan hillside for more than fifty years but it is only over the last ten years that Fattoria Campigiana has really begun to produce some very good Italian wines.
It seems with every passing year the wine simply improves in leaps and bounds. There is a secret to this improvement and his name is Emiliano...read on for more.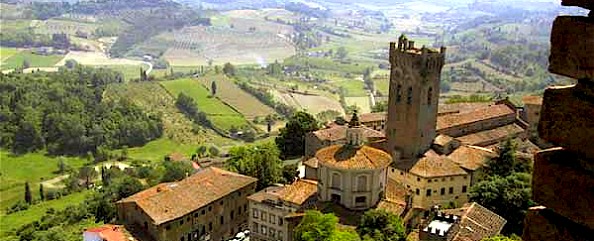 A Focus on Fine Wine

The employment of a skilled technical team headed by leading Italian enologist Emiliano Falsini has paid off. Despite the difficulties inherent in his insisting on the minimal use of chemical fertilizers and harvesting entirely by hand the results have been astounding.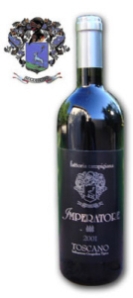 Grape Varieties consist of 70% Sangiovese, 5% Cabernet Sauvignon, 5% Merlot, 5% Syrah, 5% Lanaiolo, 7% Trebbiano Toscano and 3% Malvasia.
The Wines
Imperatore is a red wine produced from 80% Sangiovese, 10% Syrah and 10% Merlot.
A perfect example of the high quality wines being produced by this estate and yet because they are an "unknown label" the wine is very well priced.
Produced from only the best vines on the estate the wine spends 25 days in cement vats followed by 12 months in oak barrels.
The wine undergoes no filtration and any sediment is to be considered testament to the "genuine" quality of the wine.
As good Italian wines go this is right up there and represents excellent value. Years 2004 and 2006 were particularly notable.


Il Barbarossa
Emiliano selects only the estates very best grapes from three varieties Sangiovese, Canaiolo and Colorino to produce their premium Barbarossa.
Most important is the Sangiovese which makes up 90% of the wine. This is one of the wines Emiliano is most proud of and it is indeed a well structured and elegant wine.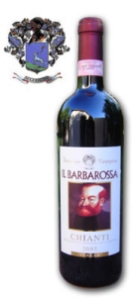 The remaining Sangiovese and Caniolo grapes go toward making the estates eminently drinkable Chianti.
Visiting the Estate
Located in the heart of Tuscany and surrounded by vineyard covered hills the estate is the perfect base for exploring Tuscany. All the famous cities of Tuscany from Florence and Pisa through to Siena and Lucca are nearby while very good Italian wines are right on your doorstep.
Situated on the "Via Francigena", the ancient road pilgrims from France and Spain took on their way to Rome, the estate can boast the remains of a recently discovered Roman Basilica and a number of Roman houses which are of enormous archaeological significance.
Where to stay in this part of Tuscany? You won't go wrong with the Villa Sonnino.

---
Have you been to Tuscany?
Ever visited Tuscany? Share your experiences and perhaps a photo or two!
What Other Visitors Have Said
Click below to see contributions from other visitors to this page...

Coffee, Selling Italian Wine, Manners & Turin Wine Show Not rated yet
Hello Andrew it is Salvo here. I don't think you remember me but I met you at the Torino Wine Show when you were a guest of Torino and an official wine …

Italian Wine Merchants in New York Not rated yet
I am an Australian by birth but a New Yorker by work. What I mean is I'm now living in the greatest city on earth -New York thanks to the company I work …
---
Return from Good Italian Wines to the Best Italian Wine Home Page