Cefalu
by michael bruno
(New York, New York USA)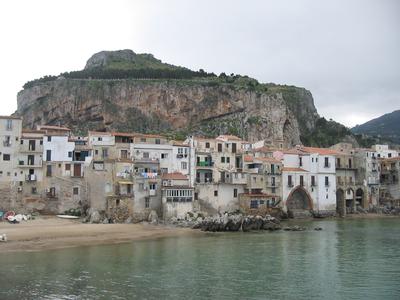 On our trip to Sicily we rented a car in Palermo and the first stop was Cefalu. It's a town on the northeast coast of Sicily by the sea.


The small town has a lovely cathedral which is called the Cathedral-Basilica of Cefalù. The cathedral is at the town's center. We walked up the the mountain to the castle which has fantastic views. Great food too throughout Sicily!
Andrew's reply:
Thank you for the great photos Michael. Cefalu is indeed a wonderful and completely unforgettable town and your photos really capture it well. The beach with its colorful fishing boats, huge hill behind and lined with those old houses is unforgettable.
Of course I agree with you too about the food and Sicily has some of the best food in Italy and the great thing about Sicily is they always seem to give you lots of it.
There is something about Sicily that is so unique and in so many ways it is almost like another country entirely; a world apart from the rest of Italy. I really recommend it to anyone who has only ever visited mainland Italy and more particularly to those who have only ever been to the north of Italy.
If you need a few ideas on where to stay when in Sicily then have a look at our list of some of our favorite places to stay.
You can get the list here.
Of all the places on the list the first one is my favorite. It is an entire village set in magnificent settings that has been converted to an hotel. The picture on that list page will give you an idea of what to expect but when you are actually there it is way better. I can promise you that you will feel exactly as if you are starring in your own Godfather movie.