The Best beaches on the Italian Riviera
A lovely way to explore Italy is to combine a vacation in one of the wine regions of Italy together with time exploring the nearby beaches.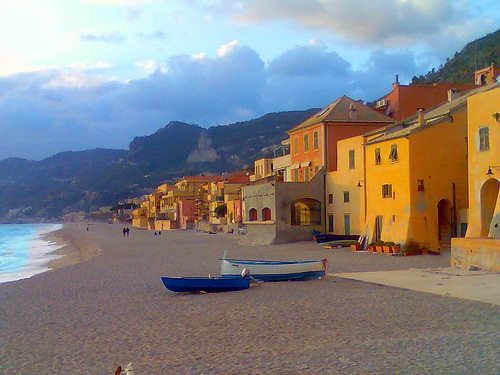 There are two beach and wine regions I can highly recommend...
First is a combination of the best beaches on the Italian Riviera (Liguria) and the Langhe wine region of Piedmont.
The other is the Maremma district of Tuscany.
Here I focus on Liguria/Piedmont but if you are interested in the Maremma and the best beaches in Tuscany click here. 
Let's begin with the wine...
The Wine
The primary Piedmont wine region is the Langhe. It is the most beautiful of all Italian wine regions - even better than Tuscany by a mile. In fact the Langhe has to be one the most beautiful wine regions in the entire world.
The city of Alba is the main town at the center of the Langhe. It is a really great place and not only is it a wine center but it is also home to the world's best truffles and some of the most famous chocolate producers including Ferrero Rocher.
The Corte Gondina in the little village of La Morra, near Alba, is a perfect place to stay. For our guide to the Langhe wine region including advice on when to visit and more tips on where to stay click here.

The Best Beaches on the Italian Riviera
Liguria is known as the Italian Riviera and runs along the Italian coast all the way from France to just past the Cinque Terre.
This is arguably the most beautiful coast line in all of Europe. It is an easy 30 minute drive from the Langhe down to the Ligurian coast so a visit to the Langhe vineyards, combined with an unforgettable beach vacation, is something that is easily done.
Where are the best beaches on the Italian Riviera?
There are a lot of great beaches along the coast but the best are on the part of the coast known as the Riviera Ponente, the part that runs from Genoa all the way through to France.  You can see a map of the region's beaches here.
Of all these Riviera Ponente beaches the cream of the crop are the beaches in Finale Ligure and those lining the Bay of Saracens.
The Bay of Saracens is right in the middle of the Riviera Ponente too making it the perfect base to explore the coast.
Try to stay at the Hotel Albatross in Varigotti which is right near the Bay of Saracens beach. I have written a complete guide to all the best beaches in Liguria which you can view here.

Need more beaches...

A new way to explore Liguria? Click here!

For the best five beaches in all of Italy click here.

This is the Best beach in Sicily!

Visiting Puglia - try this beach.
Return from the Best Beaches on the Italian Riviera to the Best Italian Wine Home