As an Amazon Associate I earn from qualifying purchases. Support us by using our links to Amazon when you shop.

The Best Beach in Sicily...Discovered!

Off an ancient island in the Mediterranean sea is a beach of powder white sand and turquoise seas. A beach of indescribable beauty. This then is the best beach in Sicily...
Actually I couldn't really narrow it down to one beach so you will have to make do with the two best beaches in Sicily instead.
Choosing the best beach anywhere is never an easy task and in a place like Sicily it is especially difficult.
There are literally hundreds of stunning beaches throughout Sicily, each one guaranteed to take your breath away. To be the best against such stiff competition really means something.
You can be 100% assured that these two beaches we have chosen are truly gorgeous – few beaches in the world are better.
If you aren't sure where they are then the  map farther down the page should help.

San Vito lo Capo
On the north-eastern shores of Sicily, and only 38 kms from Trapani, you'll find paradise, a beach by the name of San Vito lo Capo. This is the most famous beach in Sicily, a wide swath of powder white, spotlessly clean sands and warm seas of tanzanite blue await .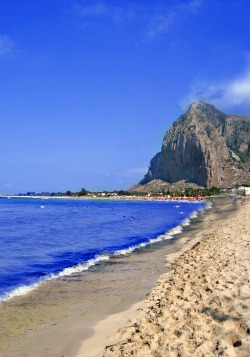 At one end of the beach is spectacular Monte Monaco keeping a watchful eye on those soaking up the glorious Sicilian sunshine.
The best time to visit is late May, June or September.
In late July and August the beach can get a little crowded but that's really no problem. Simply catch a boat to one of the many gorgeous beaches in the Riserva dello Zingaro.
It is in the Riserva dello Zingaro where you'll find our other "best beach in Sardinia"...

Cala Marinella and the Riserva dello Zingaro
Cala Marinella is found in the Riserva dello Zingaro (The Gypsy Reserve).
Make the time for a trip to this rather special reserve, the last unspoilt coastal wilderness in Sicily! To get in will cost you only 3 Euros (children under ten free).
You'll discover deserted coves with awe-inspiring beaches of the whitest sands.

Cala Marinella is the best beach in the reserve, it can be reached on foot but it is quite a hike. A much better solution is to go by boat and boat trips leave regularly from San Vito lo Capo.
Tranquil seas of a blue so beautiful it seems almost other-worldly and a beach made of millions of tiny shells await.
The beauty of this forgotten and unspoilt beach, in the last unspoilt corner of Sicily, is unforgettable.
Don't like long walks or boats?

Then the easiest beach in the reserve to get to is Cala Capreria.
It takes around fifteen minutes, on foot, to get here and this too is a gorgeous beach. In fact there is little to choose between it and Cala Marinella.
The reason I prefer Cala Marinella? Only because it is less crowded and it is only less crowded because it is harder to get too.

Hotels near San Vito lo Capo and Cala Marinello
Perfectly placed between San Vito and the reserve is the Hotel Sabbia d'Oro, a typically Italian family run affair offering way above average service and a superb breakfast of mouthwatering home grown delights .
For more on the hotel, a map of the area and more photos of the area click here
There is another Italian island with beaches of a beauty unsurpassed. Click here to discover them
Even near Venice you'll find beaches - visit my guide here
For beaches on the Italian Riviera - click here.
Best beach in Puglia? Here it is!

Return from the best beach in Sicily to the home page of best Italian wine.

Have a Great Beach to share?
Do you know of a great beach? Share it!
What Other Visitors Have Said
Click below to see contributions from other visitors to this page...