As an Amazon Associate I earn from qualifying purchases. Support us by using our links to Amazon when you shop.
"Farm To Table Concept"
by Andy Steven
(Catania, Sicily, Italy)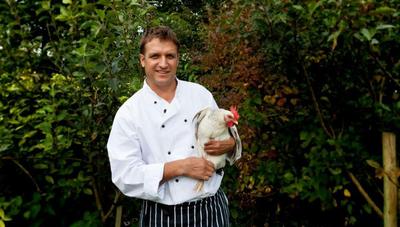 Farm to Table at Toscana
Tuscan cuisine and especially Florentine cuisine is one of the famous cuisines in the world. In addition to traditional recipes and dishes known everywhere even with their Italian name (e.g. "ribollita"), many people are unaware of its few specialties.


Due to my profession I have to travel worldwide, and a couple of months back I landed up in Dublin, where I ate from various restaurants. To begin the post I must tell you that my home town is in Italy and my forefathers are from San Gimignano.
So with my upbringing I had a special love of Italian Cuisine. As I reached adulthood I started realizing that Tuscan food is just incomplete without good wines from Italy. I feel that Tuscan wines do possess an artistic legacy and its permanent influence on high culture.
So wherever I travel I always look for Tuscan foods along with best wine; as I was saying that due to my profession I have been to nearly every part of the world. A few months back I took my family to Dublin.
We came across an Italian restaurant, and I was highly impressed with their farm to table concept of serving their popular Tuscan dishes.
Although I tasted from various restaurants in Ireland, I found that fresh supper or lunch was actually missing, however this regret got pacified when I visited Toscana Restaurant in Dublin who are serving their customers with 70% of their own farm grown produce.
With lunches and dinner for successive days I had a chance to converse with their head chef Suzi Michael, from whom I learned many Italian recipes which are just awesome when served with true Italian wine. I have also came to know that with this concept
Toscana Restaurant
is automatically creating a natural demand for their food in that region.
So today I'd thought I'd share what we ate, as well as one of the dishes that Tuscany is famous for. Here is my recipe which I tried
to prepare at home after taking proper guidance from Suzi Michael
Grilled Chicken Salad
Ingredients:
4 pieces of boneless chicken
2 tablespoons lemon juice
2 tablespoons olive oil
2 teaspoons lemon pepper
2 medium sliced onions
4 large chopped mushroom
1 cup mayonnaise
hot sauce to taste
salt and pepper to taste
Step 1 : Marination
Place boneless chicken in a plastic bag with lemon juice, lemon pepper and olive oil. Shake well and marinate for 1 hour in the refrigerator.
Step 2: Grilling
Apply oil on the grill grate after preheating then place onions and mushrooms on it . Cook until it gets grilled both side .Then discard marinade and cook chicken for 15 minutes, make sure both sides are grilled well. Then remove from heat and keep to for cooling.
Step 3 : Preparing Salad
Chop the grilled chicken and mix with onions, mushrooms, mayonnaise, hot sauce and then sprinkle salt and pepper. Refrigerate it until serving.
Incidentally this recipe is a favorite dish for my 7 years old daughter Martha, I like the grilled chicken salad which is very healthy for my family.
Amarone Wine
Serve this along with the recipe that I furnished above, although its my personal opinion but I will give as many stars to
amarone wine
as the dish. Actually it goes with dishes made with grilled meat. You can say it adds taste to Italian food and cuisine.
Amarone can be used with dishes of Asian and Middle Eastern cuisine too. It has a distinct flavor that makes it one of the top-selling wines in the world. Considering its worldwide popularity, it is a favorite of most of the wine aficionados.
For those who taste the wine for the first time, they can find it little strong. However, its distinct taste is soon to appeal to the taste buds of the first-time drinkers.
I enjoy my wine and food on every visit at Toscana Restaurant. The staff are fabulously friendly. They provide good service.